Harvard Berkman Center in Jamaica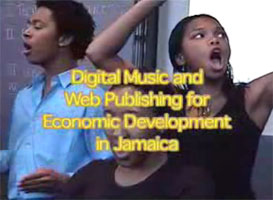 In 2003, DTV Group collaborated with Professor Charlie Nesson of the Berkman Center to send video production tools to Jamaica. skyBuilders also sent web servers with their "timeLines" information management software. DTV Group member David Pearson, executive director of Shawmut Education, carried the computers and MiniDV video production gear to Jamaica. While there he met with the Jamaican Ministers of Technology and Education and trained dozens of Jamaicans. The Harvard Law School Berkman Center for Internet and Society subsequently held a day-long conference on economic development, with one hour devoted to Jamaica. Bob Doyle, David Pearson, and Jamaican filmmaker Barbara Blake-Hannah collaborated on a 25-minute film on Digital Music and Web Publishing in Jamaica describing the work in Jamaica. It is available on the web. During two trips to Jamaica, Pearson helped to build a demonstration computer classroom, with 25 computers connected in a local area network, and with a central server providing website development tools. Desmond Green provided the basic computers at his Rockfort school and Pearson brought network cards and extra RAM memory for each of the client computers.
The classroom is part of the renovated Rockfort Community Training Center operated by Desmond Green's CyberU Jamaica.
David Pearson in the DTV Group conference room with the boxes of network cards, the dialup modem, and the skyServer computer for the Rockfort Training Center.

Harvard University Berkman Center for Internet and Society and skyBuilders.com supported the production of a documentary film on the introduction of skyBuilders tools into Jamaica. The film was made by noted Jamaican filmmaker Barbara Blake Hannah. It was edited at the Desktop Video Group, with additional material from the Berkman Center conference on economic development in Jamaica. The film was introduced by David Pearson. While in Jamaica, Pearson also helped with mervin Jarmin's Container Project. The project website is running on skyBuilders servers.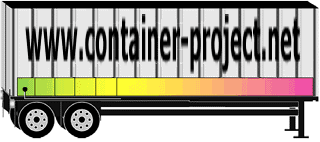 skyBuilders sent the Container Project two skyServers, one Linux and one Windows, for a total of five machines in Jamaica. They also sent networking hubs, cables, a dialup modem, and a sophisticated router to share an Internet connection.
Shereece Williams of the Jamaican Computer Repair Center came from Jamaica for three days of training in the Desktop Video Group conference room. In support of Harvard in Jamaica, DTV Group helped Charlie Nesson launch a new website HAA-Jamaica, for Harvard Alumni and Friends assisting Jamaica to overcome the digital divide. Professor Charles Nesson of Harvard's Berkman Center on Internet and Society is the webmaster of this site. Charles is proposing to the Ministry of Education a demonstration skyServer in Kingston, Jamaica to train teachers there to build websites for all the Kingston high schools. That server was installed in the data center of Jamaica's larget Internet provider, InfoChannel.