DTV Group formed in the 1980's to support undergraduate video production and television distribution at Brown University (BTV) and Harvard University (HRTV). We built multi-camera switched video studio facilities for both universities. We also built Quad Sound Studios, an eight-track analog recording studio for Harvard undergraduates to create recordings for their music portfolios. In the early 1990's the DTV Group was loosely associated with the Boston Computer Society New Media Group. DTV Group director Bob Doyle wrote articles for the BCS New Media News.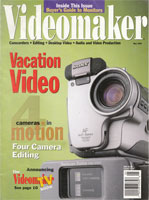 In 1988, we helped Matt and Patrice York launch Videomaker Magazine. We wrote several columns on Desktop Video for Videomaker. In 1993 we researched analog video editing and synchronized four Hi-8 camcorders to do four-camera multi-track post-production editing. Our Hi-8 Users group merged into DTV Group in 1995.

In 1994 DTV Group's labs in Cambridge became the home of NewMedia Lab

, doing digital video testing of hardware and software for NewMedia magazine from 1994 to 1999.

Bob Doyle, the first director, and Jeff Sauer, the second director of NewMedia Lab, wrote many articles for NewMedia Magazine on camcorders, non-linear editing systems, video hard drives, multimedia projectors, and dynamic web publishing systems.

In 1998, members of DTV Group experimented with digital video webcasting and assisted Harvard University Extension School to post their first distance-learning class on the web. Also in 1998, Steven Ascher and his wife Jeanne Jordan studied non-linear digital video editing at DTV Group as Steve was producing the 1999 edition of his classic Filmmaker's Handbook

DTV Group provided technical, logistic, and financial support to many individuals and media groups in the Boston area, including the Boston Cyberarts Festival, Boston Film/Video Foundation, Cambridge Community Television, Quad Sound Studios, Harvard Radcliffe Television, and Massachusetts College of Art.






In 2003, DTV Group recorded the OSCOM and Bloggercon conferences at the Harvard Law School Berkman Center for Internet and Society and published them as web video.



(Click for an expandable panoramic view of BloggerCon, with Bob Doyle recording video and Chris Lydon the sound)...

Former NPR talk-show host Christopher Lydon came to DTV Group to learn to make his own shows and publish them to the web. Chris produced fifty interviews in our lab which were published to his Harvard blog. Later they became known as the "first podcasts." Our Blog Audio and Blog Video websites describe the technology developed by DTV Group, including Chris Lydon's Portable Studio.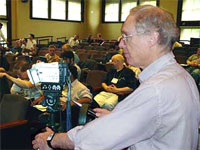 DTV Group recorded over 80 hours of videos at conferences on content management and structured publishing for CMS Review, who published them to the web. From 1973 to 1978, our Director, Bob Doyle, was the CEO of Super8 Sound, where he pioneered double-system synchronous sound recording and editing for Super8 Professionals. As a full member of the sound engineering committee of the Society of Motion Picture and Television Engineers, Bob helped specifiy standards for digital synchronization signals between Super-8 film cameras and audio tape recorders.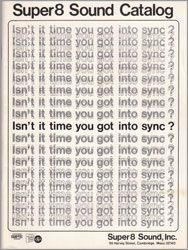 The Super8 Sound Catalog became the definitive equipment reference for Super8 filmmakers. It went through three editions with an average circulation of 15,000 copies.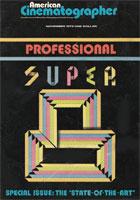 American Cinematographer magazine devoted the November 1975 issue to Professional Super 8 tools and techniques developed by Super8 Sound.